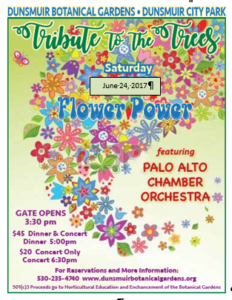 Saturday June 24, 2017, come support The Dunsmuir Botanical Gardens, together with Palo Alto Chamber Orchestra, who presented its first fundraiser 27 years ago. Palo Alto Chamber Orchestra has continued to the Dunsmuir Botanical Gardens annually since that time.
This year's theme, Flower Power, was chosen for fun and fancy so you can empower the Dunsmuir Botanical Gardens to stay beautiful!. The Board of the Dunsmuir Botanical Gardens invites you to celebrate the Gardens and Orchestra.
A limited number of dinner tickets will be available at the Concert Gate on a first come first served basis. Tri Tip and Chicken only. Vegetarian Lasagna has sold out.
Concert only tickets are also still available at the gate.
Your choice of:
Outdoor grilled, hand carved Tri-tip
or Grilled rosemary tomato basil chicken breast
or Vegetable Lasagna
Accompanied by:Red potato salad and a green salad
Plus Dessert: Individual cheese cake
Guests may not bring alcoholic beverages into the concert, however beer, wine and soda may be purchased at the event.