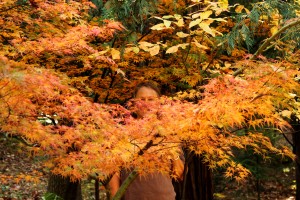 Photo by Bob Baldo: "Golden Butterfly"
Calling all photographers: professional, novice or beginner. The Dunsmuir Botanical Gardens' 6th Annual Photo Contest deadline is fast approaching so pull out your cameras and take a stroll through the Dunsmuir Botanical Gardens.  You never know what you will see and capture with your camera! Is it that sassy squirrel who has been eyeing your lunch? Or could it be the little ones playing on the swings? Maybe it's those noisy bees in the Pollinator Garden behind the Ballpark Grandstand. Any subject is a great subject for our photography contest, all you have to do is take a photo in the Dunsmuir Botanical Gardens and enter.
Please mark your calendars for the 2016 contest deadline, September 23, 2016. Visit the Gardens' website at www.dunsmuirbotanicalgardens.org and navigate to the Annual Photo Contest to read the contest criteria. The contest is open to all ages in the following categories: Wildlife, Plants, Landscape/Scenery, People in Nature and our newest category – Artistically Enhanced.  All photos must be taken in the Botanical Gardens. Ribbons will be awarded for first, second and third place in each category.  Best of Youth, Adult and Professional Divisions will receive a $50 cash prize.
Copies of the contest rules and criteria along with matting supplies are available at the Dunsmuir Recreation District Office at 4841 Dunsmuir Ave., Dunsmuir, CA. Please call 530-235-4740 for days and times that the office is open. The complete list of rules and entry forms are also available for download on our Annual Photo Contest web page. For questions you may email to: info@dunsmuirbotanicalgardens.org or call Barbara Valenzuela at 530-926-1733 for additional information.
The opening reception will be held on October 7th from 5:00 p.m. to 7:00 p.m. at the Siskiyou Arts Museum, 5824 Dunsmuir Ave., Dunsmuir.  All 2016 entries will be on display in the Siskiyou Arts Museum October 7th through the month of October.